Special machinery buckets
Show
Manager
Your personal manager
Filter:
New
Inexpensive
Expensive
Buckets for JCB, Manitou, Dieci, Bobcat, Merlo: available range and benefits
To speed up and improve the quality of work there are a wide variety of special buckets for JCB, Dieci, Manitou, and other brands.
Pack-Trade company has a wide range of standard and highly specialized attachments manufactured at the plant "A.TOM". Attachment fully complies with international quality standards and is compatible with any type of special machinery.

Loader bucket: types and peculiarities
Depending on the purpose, buckets for a wheel loader, telehandler, skid steer loader can have a different number of teeth, volume, shape, additional blades. Pack-Trade offers such models:
Grain bucket. Is suitable not only for working with grain but also with other bulk materials (soil, sand, fruits). With a minimum weight, it is highly durable due to the reinforced construction. Supplied with a volume - 2.5 m3 complete with 450 HB Hardox blade.
Bucket Evolution. Specially designed for Manitou, JCB, Dieci, as well as for loaders of other brands for handling bulk products, stone, gravel, building materials, etc. It has a closed type of construction. The minimum equipment includes Hardox 450 blade. Volume - 1 m3, 1.5 m3, 2 m3, 2.7 m3, and 4 m3.
Side dump bucket. Used for loading and unloading operations when it is necessary to lift and throw the load into a trailer or truck.
Bucket for stone. Has a grid structure for screening all kinds of materials: from stone to root crops.
Mixer bucket. Designed for mixing concrete solutions, fertilizers, feed. Could be used where it is impossible to use heavy equipment.
Bag filler shovel. The industrial bucket for JCB and other models has two functions - a standard bucket and a stationary measuring device.
Buckets for skid steer loaders are presented by a universal and construction modification.
Hi-Tip. Designed to handle large loads at significant heights.
Bucket 4in1: for loading/unloading, gripping, and moving bulky goods, earthmoving and leveling works.
Attachments are made of special high-strength wear-resistant metal and significantly expand the range of machine applications. Also, we offer special adapters and carriages.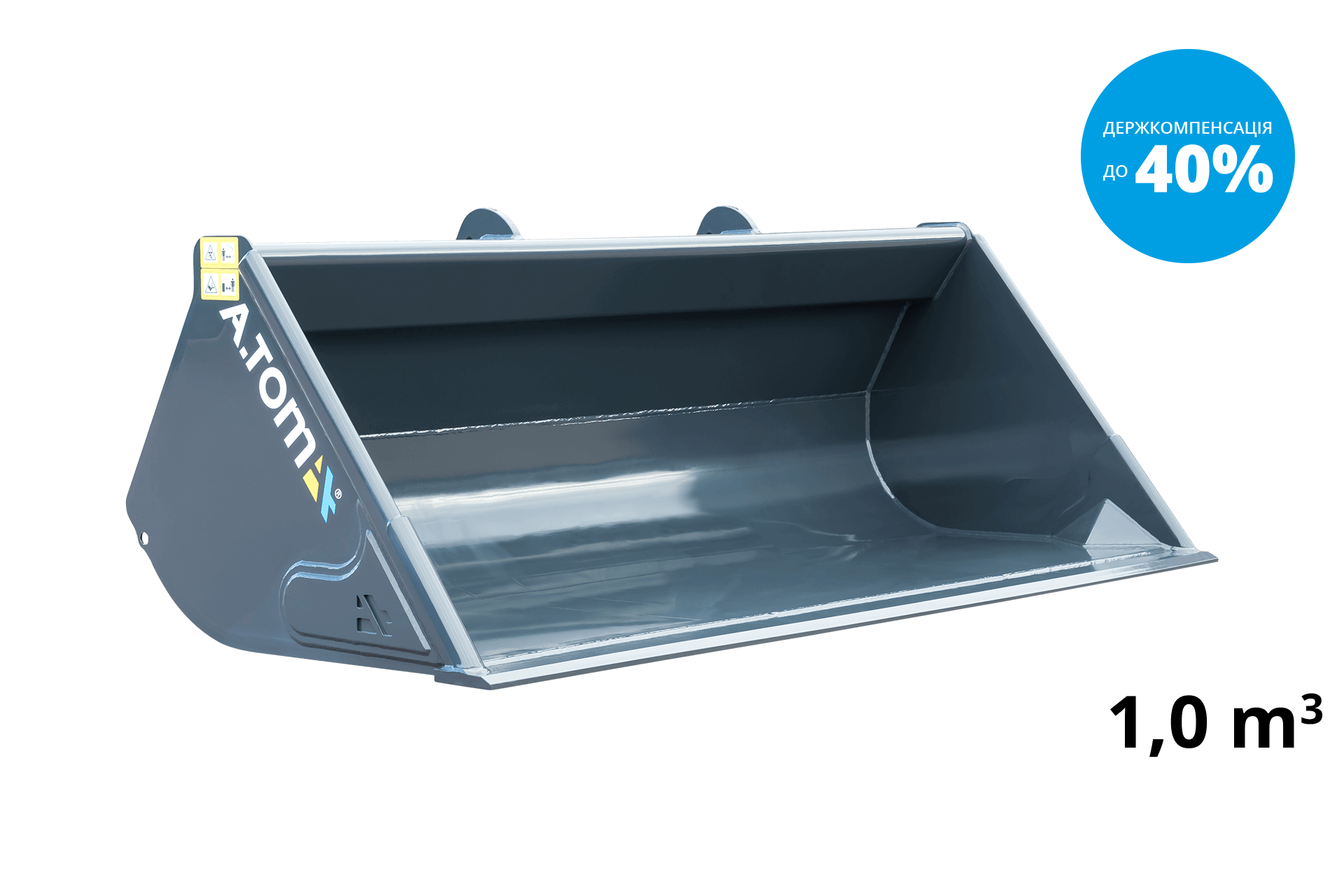 Special equipment for difficult work
Among all buckets, should be highlighted clamshell load-gripping devices, which can be both narrow-profile and universal. The hydraulic cylinders of the mechanism can be located vertically (loading, excavation) or horizontally (only loading). Clamshell buckets can have different lifting capacities (light, medium, heavy), the presence of jaws (one, two, several), the width of the grab, the presence of a rotor.
Cooperation with Pack-Trade includes:
Prompt delivery anywhere in the country.
The ability to see the work of any unit in action.
Quality-Price-Ratio.
A wide range of attachments: we offer a loader bucket for agriculture, construction, utilities, logging, etc.
Service and repair.
Professional consultation.
Contact us or make an online request!