Log grabs
Show
Free Consultation
Order department
Log grapple: types and functionality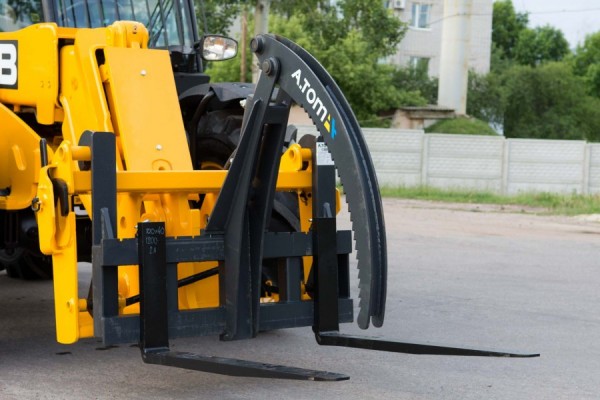 Modern woodworking and industrial enterprises use log grapple to lift or move logs. Such mechanisms are also used for loading / unloading long cylindrical loads, for example, boards, pipes, rolled metal, poles, bars, etc. Such type of attachment is installed on tractors or telehandlers of different brands.
"A.TOM" attachments have a simple but robust design, for long-term operation, and are manufactured according to international quality standards. Also, it is possible to manufacture attachments according to the customer's drawings.
Benefits of log grapple
Log grapples are made of high-quality low-alloy and alloy steel, which reduces the dimensions and weight of the attachment. The use of log grapple provides the following advantages:
reduction of injuries;
the use of a log grapple helps to expedite the work
quick mounting;
universal application in many areas of production;
high reliability;
minimum weight and compact dimensions.
The main types of hydraulic grapples
Working with logs, as well as loading and unloading operations require the use of special attachments. The log grapple is represented by the following modifications:
general-purpose log grapple with a movable top part - designed for cylindrical objects, can be used in adverse conditions;
sorting grapple – a clamshell mechanism, have two or more movable jaws, simple control, and wide functionality;
fork-grapple - is used to move round timber and other materials.
These attachments allow using special machinery in woodworking, logging, metallurgical enterprises, agriculture, utilities, and construction.
All our attachments are covered by the manufacturer's warranty. We guarantee timely repairs, availability of spare parts, lubricants, and prompt delivery all over Ukraine by company transport or delivery service.