Hydraulic pallet trucks
Show
Forks lifting height (mm)
Minimum forks height (mm)
Steering wheels size (mm)
Free Consultation
Order department
How to choose a hydraulic pallet truck?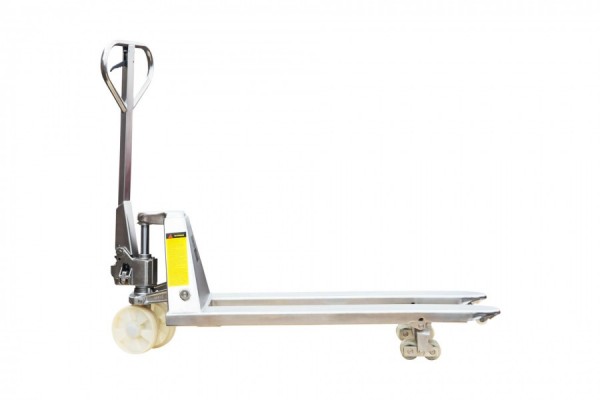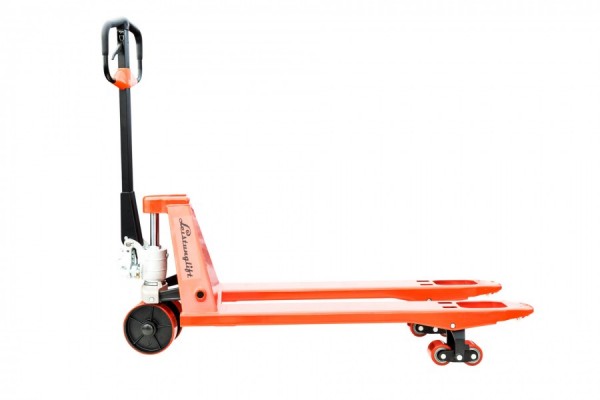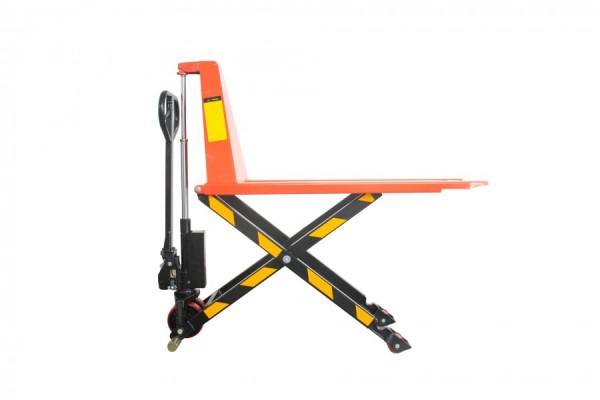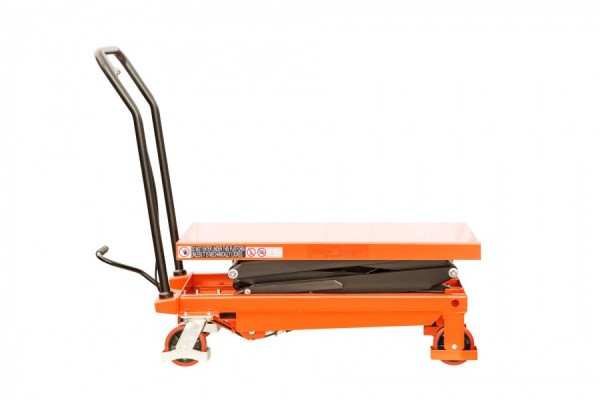 Hydraulic pallet truck is a highly demanded type of warehouse equipment, due to its versatility, ease of use and best price. A wide range of models allows working with different loads, for example with products on pallets.
Depending on the design features, hydraulic pallet truck can be of several types:
Standard. Has 1150 mm forks at 80-85mm high in the lowered position. The forks can be of different thicknesses for transportation specific loads.
Scissor lift. Equipped with an X-form linkage mechanism, with the help of which the load can be lifted to 0.8 m height.
Pallet truck with scales and built-in printer.
Pallet truck with a lifting platform. Has a scissor lift and a platform that allows to move and stack products on the shelves.
Stainless steel hydraulic pallet truck. Designed to work in aggressive environment, used in pharmaceutical, food, chemical industries, as well as in freezers and facilities with high humidity.
The choice of pallet truck depends on the weight of the load. The most popular models are from 1 to 3.5 tons. Hydraulic pallet truck with a lifting capacity - 2.5 tons will be suitable for a store or a small warehouse. Pay attention that it is important to keep the forks as low as possible for handling bulky loads.
Depending on the type of pallets pallet truck should have a suitable fork length and width. For transportation of Euro pallets, will be suitable to use a standard pallet truck with a fork length - 1150 mm. For non-standard narrow pallets should be used hydraulic pallet trucks with 1070 mm forks.
Driving characteristics of pallet truck depends on the wheel type. The most common are polyurethane and rubber. To work on uneven floors, it is worth buying a hydraulic pallet truck with rubber steering wheels. They are soft, quiet, do not slip on the tiles, but at the same time they are distinguished by increased rolling resistance than polyurethane ones. Wheels and rollers made of polyurethane are an excellent solution for driving on a flat surface, both indoors and outdoors. They are versatile, wear-resistant, and could work in the aggressive chemical environment.
Hydraulic pallet trucks: price and advantages
The price of high-quality pallet truck starts from 5000 UAH. At the same time, it will have the full range of advantages:
Multipurpose: from a small warehouse to large production facilities, ports, airports.
High cross-country ability and optimal dimensions, allowing to work even in the most confined conditions.
Ease of use
Low-maintenance: for a durable and trouble-free operation, it is enough to lubricate the working mechanism.
The price of a pallet truck is more affordable than the cost of other warehouse equipment.
You can get professional advice by calling us or you can order a personal call on the website.
Hydraulic pallet trucks: frequently asked questions
🧯 What are the most popular hydraulic pallet trucks nowadays?
One of the most popular models, tested by domestic and foreign experience is Leistunglift. This hydraulic pallet trucks are the best decision in terms of price-quality ratio.
🧯 How to choose hydraulic pallet truck?
The main selection criteria are the load lifting capacity, length and width of the forks, type of wheels, and maintenance frequency.
🧯 What are the additional functions of hydraulic pallet truck?
If you need hydraulic pallet truck with high productivity, it is worth to pay attention to models with scales, scissor lift and built-in thermal printer.
🧯 Where to buy inexpensive hydraulic pallet truck?
Pack-Trade company offers high-quality hydraulic pallet trucks for use in warehouse, shop, production. In our company you can also buy spare parts and receive full service support.