Show
Manager
Your personal manager
Filter:
New
Inexpensive
Expensive
Snow plows: types and advantages
Each municipal or private enterprise prepares for the snow season annually. Snowplow – is a multi-functional and essential attachment for cleaning territories in winter. Together with a telehandler, skid steer loader and backhoe loader, it easily works on small gardens, farms, in warehouses, production sites and company territories.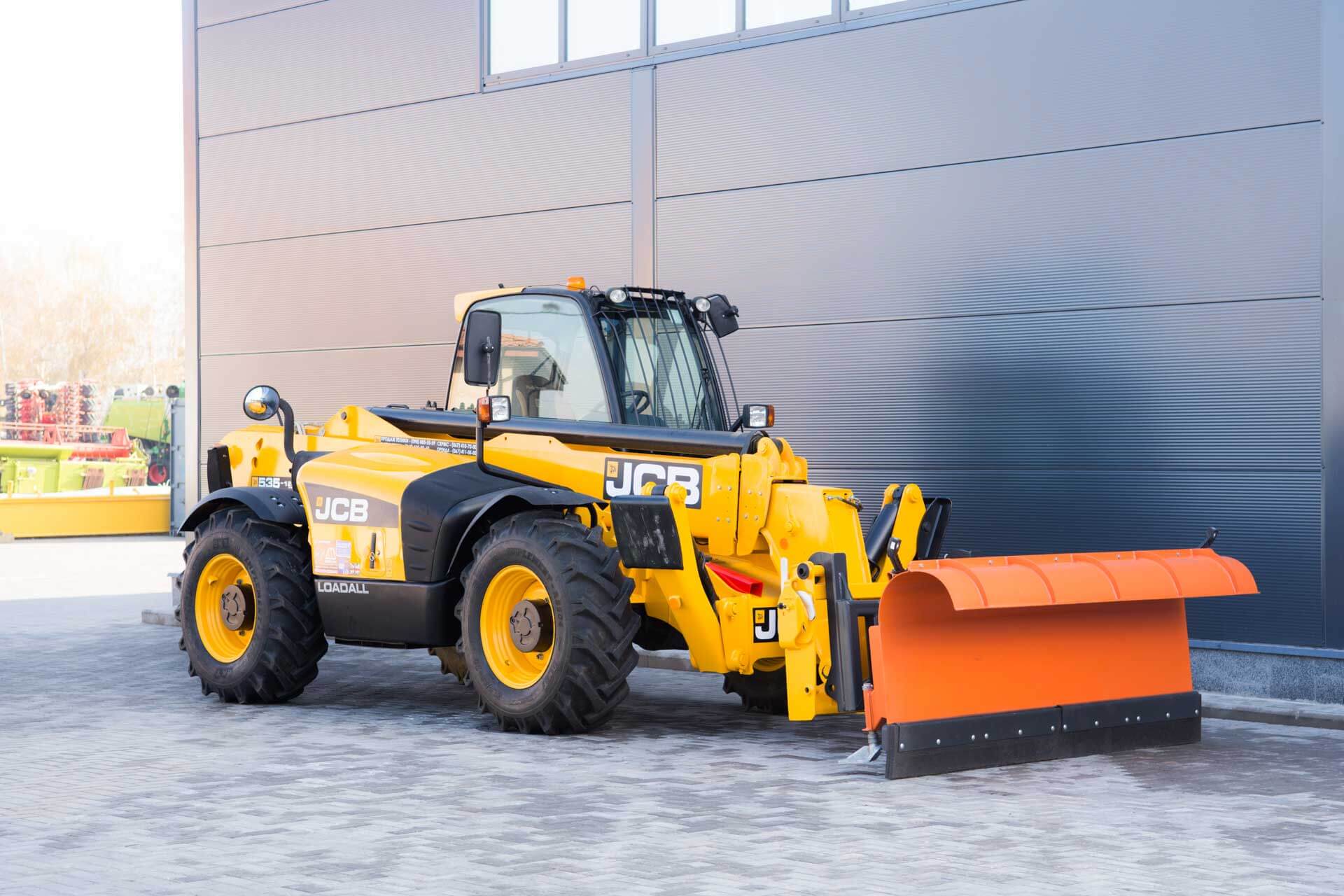 How to choose a snowplow?
Pack-Trade company offers attachments of domestic production, customized to any type of special machinery. Depending on the type of design, maneuverability, steering angle, there are 3-position and 5-position models. The key advantages of such snow plows are:
Use of high-quality S355 wear-resistant sheet steel to ensure optimum hardness and strength with low metal consumption
Additional knives made of Swedish Hardox steel.
Reliable finish coat with high grade of corrosion resistance.
High-speed and maneuverable turning system, which significantly reduces the time spent for cleaning snow in a small warehouse, on the highway or within the city.
Customization: snowplows can be used with telehandlers, forklift loaders, skid steer and backhoe loaders.
All products are certified and have a warranty.
Which attachment to choose? Let's consider two universal models.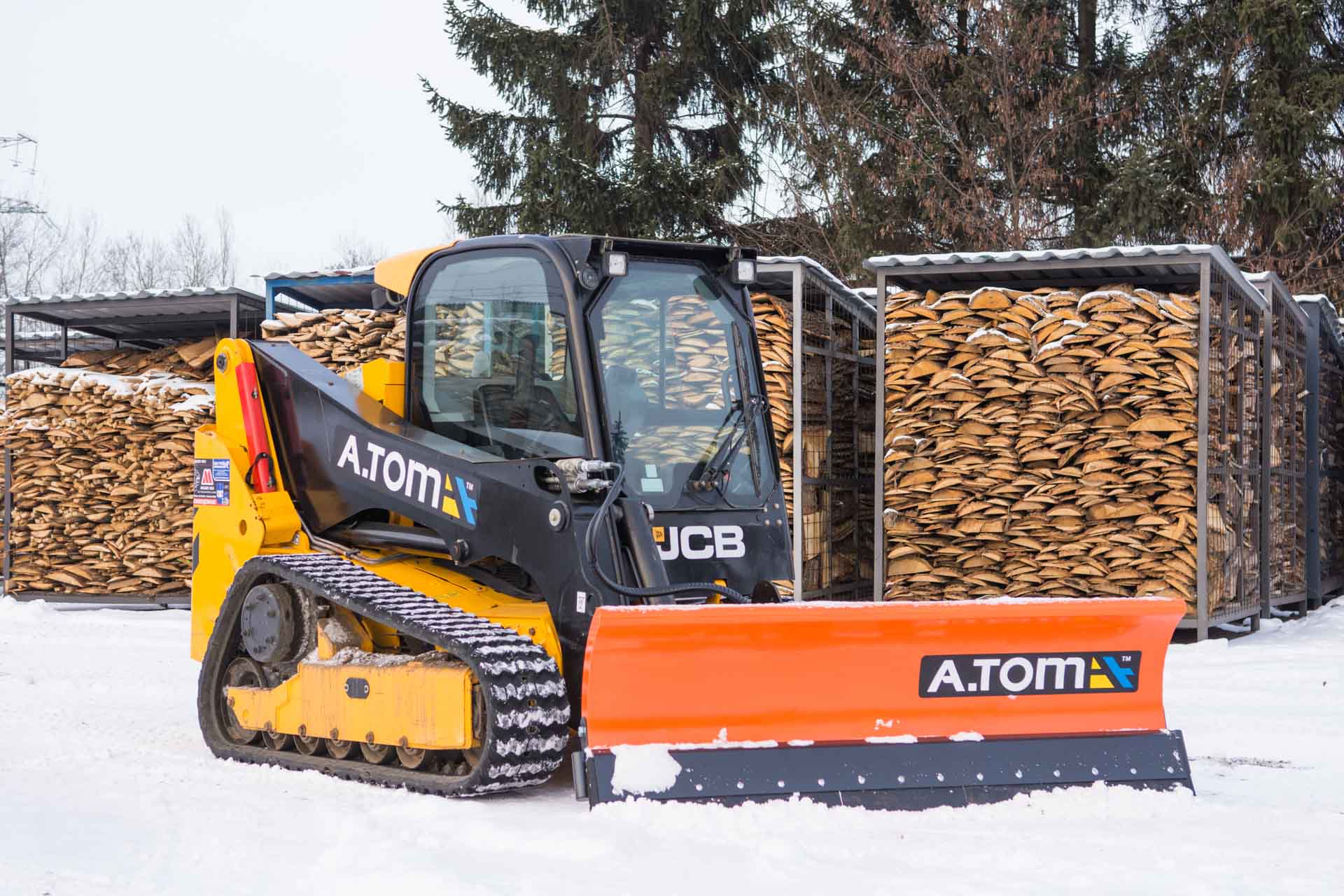 Three-position snow plow
This is one of the most popular models for JCB 3CX telehandler. Hydraulic mechanism provides three working positions: straight, left, right. Hydraulic drive rotates the plow at 32 degrees and is controlled from the operator's cab. The folded top part of the plow prevents snow from falling over the side. Another design feature is a 40 mm thick rubber edge, which guarantees the integrity of the road surface, curbs, markings. A three-position snow plow can be used on roads with significant unevenness without the risk of damaging the surface. Could be used with telehandlers, backhoe loaders and skid steer loaders.
Special attention should be paid to inexpensive and easy-to-use snow plows for a forklift loader, widely used at enterprises, sites near factories, in warehouses. The rotation angle is changed mechanically. Snowplow is also equipped with a rubber edge reinforced with polyamide fiber and can be replaced with a metal one. A forklift loader together with such attachments fully replaces a snow cleaning machine, and can also be used with various types of bulk load.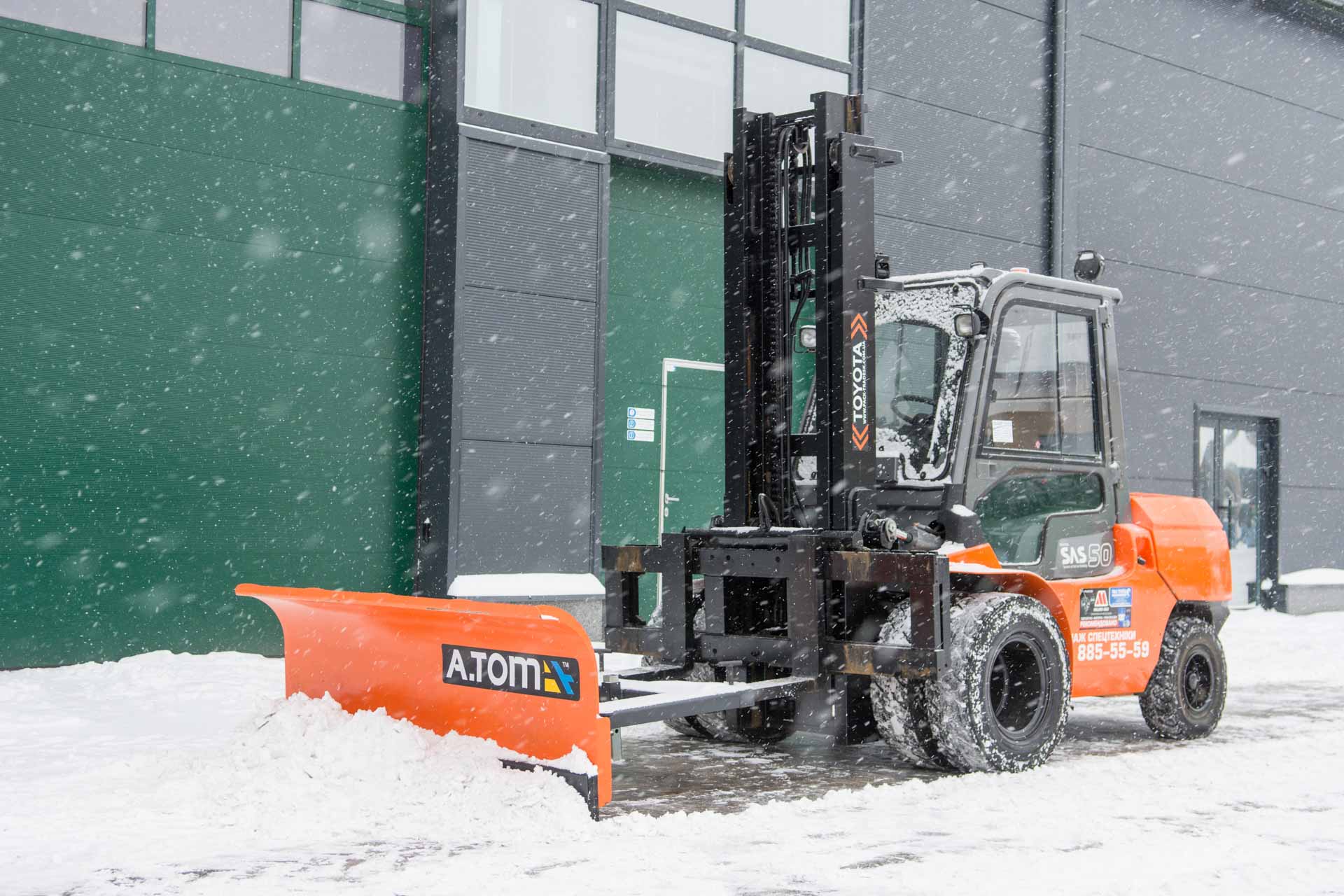 Five-position snow plow
The ideal solution for operation in spacious areas and narrowest aisles. V-shape design feature allows to work in five positions: straight, right, left, wedge, gripping the snow mass. 5-position snow plow, set in "Y" position, shovel up the snow for disposal. The angle of rotation is 27 degrees, the control is carried out from the cab.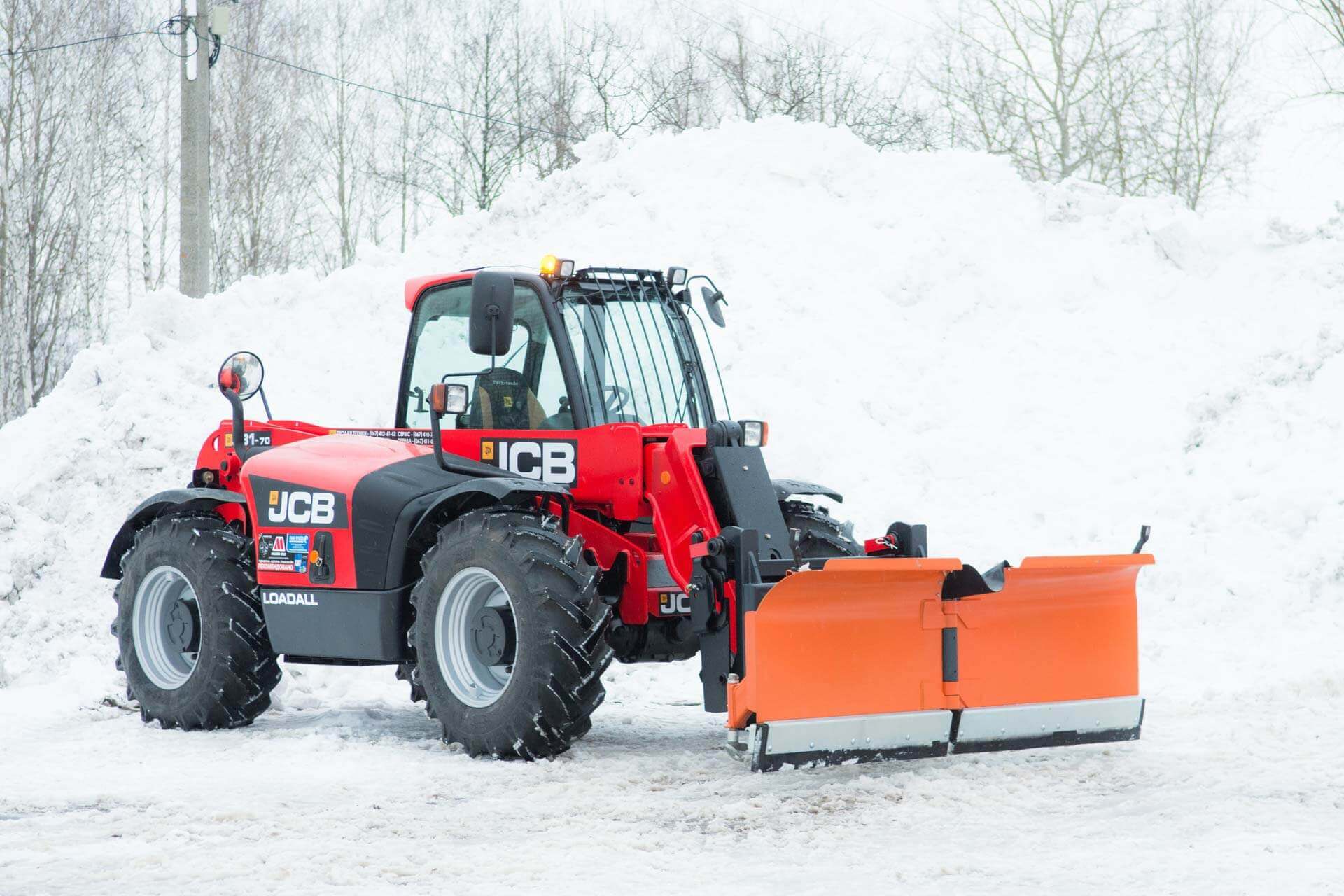 Low part is equipped with a flexible rubber edge 40-45 mm thick, which, thanks to the spring system, does not damage obstacle objects: curbs, hatches, fences, etc. Five-position snow plow easily copes with large snowbanks due to sufficient construction height (983 mm). The equipment could be 2500 mm and 3000 mm width.
All attachments have a warranty and have been tested in real conditions. As practice shows, it is worth buying a snowplow in advance. Also snow plows could be used with sand or to collect garbage.
If you have any questions call us +38 (067) 411-44-10.
Snow plows
🧯 Какие бывают отвалы для снега?
Отвалы для снега бывают 2-позиционные, 3-позиционные, 5-позиционные; для телескопических, фронтальных, вилочных погрузчиков, тракторов и мини-погрузчиков.
🥉 Какая цена на отвал для снега на телескопический погрузчик?
Цена на отвал для снега для телескопического погрузчика — от 130 000 грн.
🤗 Почему стоит купить отвал для снега?
Отвал для снега позволяет быстро очистить дороги, промышленные и придомовые территории; без проблем функционирует даже в самых стесненных условиях, прочен и долговечен.
🥇 Где купить качественный отвал для снега?
Компания «Пак-Трейд» предлагает сертифицированные отвалы для снега собственного производства «А.ТОМ» с доставкой по всей Украине.