Show
Manager
Your personal manager
Filter:
New
Inexpensive
Expensive
Street sweeper brushes
Street sweeper brush is an indispensable device for communal works. Could be used with a tractor, loader, and other types of special machinery. Helps to clean the production territories, sidewalks, roads, and squares from debris, snow, sand. The mechanism belongs to the quick-change category and has a long service life.
Pack-Trade company offers high-quality attachments manufactured at the Ukrainian plant "A.TOM". In addition to standard products, we can manufacture customized attachments, provide service, sell spare parts and lubricants.
Design features:
the metal frame or hopper
main sweeping brush made of high-strength polymers with high resistance to deformation and wear;
brush for hard-to-reach places;
hydraulics - allows you to raise/lower the attachments if necessary;
limiting wheels - located at the rear part and protects the working element from excessive pressure.
If the road brush is going to be used in the summer, it is possible to implement a humidification system to prevent dust from spreading. TM "A.TOM" offers proven models of brushes that are used all over Ukraine both for cleaning private territories and for intensive use in urban roads.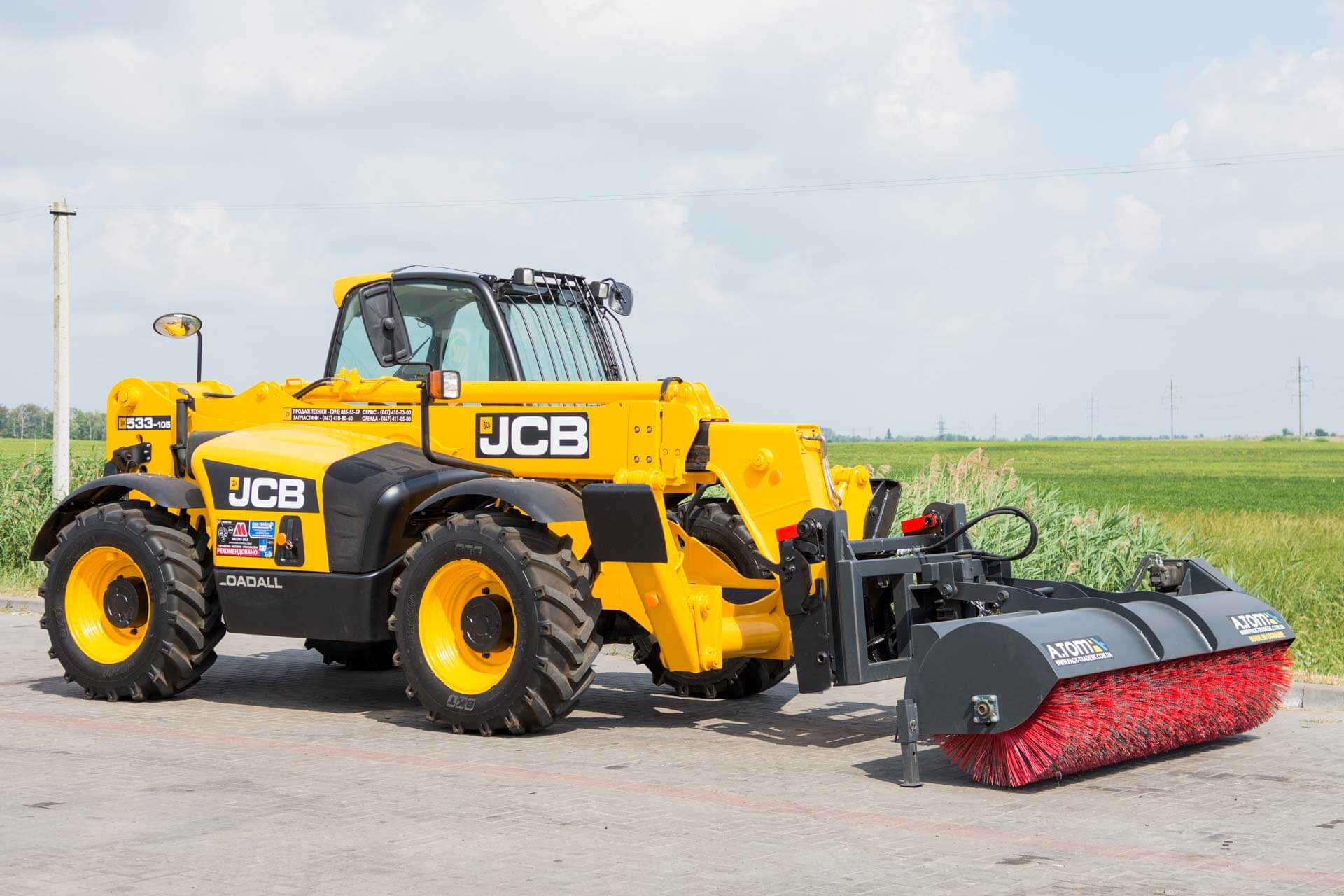 Depending on the design features and operating conditions, we offer different models:
Brush with hooper. Equipped with a main sweeping brush and additional kerb brushes, as well as a dust suppression system.
3-position sweeping brush. It is used for cleaning parks, squares, streets, highways both in summer and in winter. Equipped with a 300 l tank for collecting dust, sand, leaves, construction waste on a solid surface. The reliable hydraulic cylinder provides 3 working positions of the brush: straight, left, right.
Brush without tank. Used with a standard bucket for sweeping and collection of dirt, debris, bulk materials, etc.
Kerb brush. Designed for cleaning heavy debris on roads and sidewalks, for removing grass and weeds. It has a protective cover and is hydraulically controlled.
A distinctive feature of all models is replaceable polypropylene discs with high rigidity pile. The body of the equipment is made of high-quality S355 steel.
Pack-Trade offers:
High-quality and durable equipment of Ukrainian manufacturer.
Best prices.
Service, repair, replacement of any units and elements.
Delivery all over Ukraine by company transport.
Call our specialists for qualified assistance service.