A.TOM attachments with state compensation up to 40%
Show
Manager
Your personal manager
Filter:
New
Inexpensive
Expensive
Partial compensation for A.TOM agricultural attachments: features and benefits
Pack-Trade company offers attachments of the domestic manufacturer "A.TOM". With the help of our attachment, you can expand the capabilities of loaders and tractors. All attachments are certified and tested.

State compensation in Ukraine: how does it work?
Within the framework of the state program "Financial support for farmers", legal entities and individual entrepreneurs who supply agricultural products (as main activity) could receive partial compensation of the cost of equipment purchased from Ukrainian manufacturers or their dealers. The amount of compensation is from 25% (for agricultural enterprises) to 40% (for farms) of the equipment cost.
Steps to receive compensation. For example, you want to buy buckets:
Step one. Choose A.TOM attachment that is covered by the State Program on this page.
Step two. Pay the cost of the attachment through one of the authorized banks, and submit to the bank an application and documents confirming the purchase, in particular:
A copy of the payment confirmation document (for example, a payment order).
Acceptance certificate of the purchased attachments "A.TOM".
Application (form) for compensation.
Step three. Receive the compensated sum of money to an open bank account.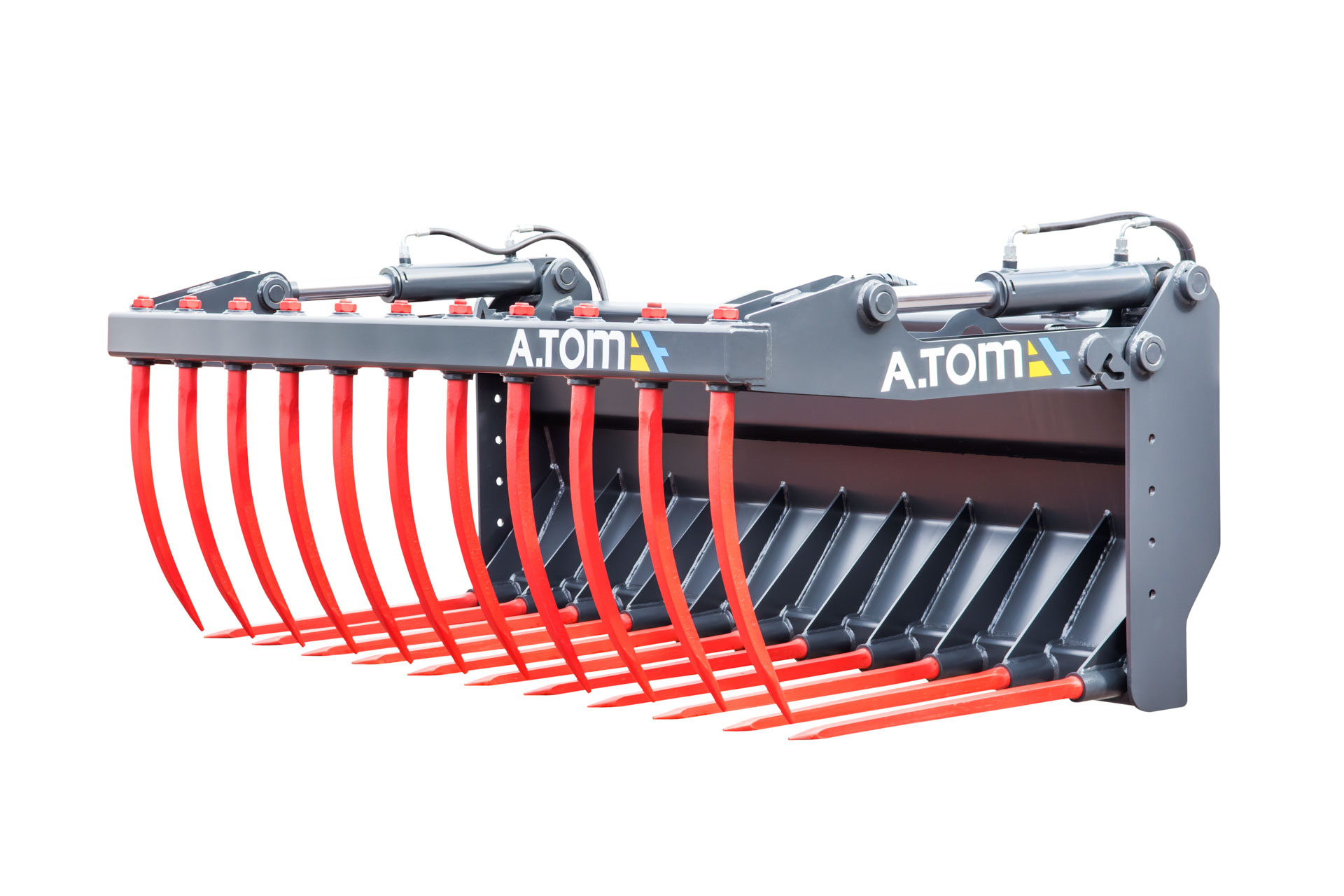 "A.TOM" is a professional manufacturer of attachments for various fields of agricultural activity. Every year we expand the range of products that can be purchased under the State Program. Today, compensation is available for the following attachments:
Buckets for special machinery Evolution with a volume of 1 to 2.7 m3.
Multipurpose bucket.
Bag filler shovel.
Attachment for working with hay and bales (haylage fork&grab of various configurations and carrying capacities).
Silage handling attachments (silage cutters, shear grabs, rollers, blades, forks).
Compost turners, compost grab buckets, lagoon mixers.
Universal and specialized blades (for silage and general-purpose).
Road brushes.
Attachments for forest (stump pullers, tree pruners).

"A.TOM" is not only high-quality buckets in Zhytomyr. This is a team of a professional designing department. Also, we provide service support and a full range of maintenance services, and, if necessary, repairs. For our customers, we offer high-quality components and spare parts, professional consultation, start-up and commissioning, and prompt delivery all over Ukraine.
​
A.TOM attachments with state compensation up to 40%
🧯 What is the amount of the State Compensation?
The amount of compensation is from 25% to 40% of the equipment cost.
🥉 Attachment that is covered by partial compensation program
Attachment for silage, compost, hay, forestry, as well as multifunctional buckets, blades, and brushes.
🤗 What documents are required for receiving partial compensation for agricultural attachment?
The payment order, Transfer Acceptance Certificate, compensation application form that is submitted to an authorized bank.
🥇 What are the requirements of the State Compensation Program?
No bankruptcy cases and arrears.